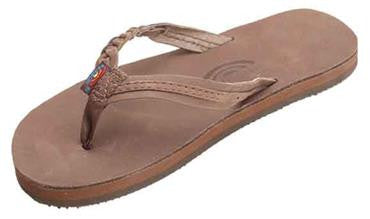 Rainbow Flirty Braidy Girls Leather Sandals - Expresso
$ 37.99
Features:
The Kids Flirty Braidy – offers our most famous sandal, with a Twist!

• Premier Nubuck Leather
• Single Layer – No Arch
• Non–Slip Rainbow Bottom
• Braided Outer Strap
• Double Stitched Leather Strap
• Box X Toe Piece
• Sewn with Bonded Nylon Thread
• Original Rainbow Woven Label

Our kids are made with top grade nubuck leather for durability and comfort, they are a single layer but do not have an arch because little feet don't quite need them yet. We use a non–slip bottom sole, which is embossed with the Rainbow name.

Flirty Braidy has a narrow strap with an asymmetrical design, featuring a braid on the outer strap, and a top stitched leather trim on the inner strap. It is all double stitched with bonded nylon thread for durability. We use the best so that there is no fraying, and the stitching will not pull out.

The toe piece is our famous Box X toe construction for comfort, quality and durability. They are finished off with our Original Rainbow woven label on the right toe.
Style: 101LTSFB-Expr