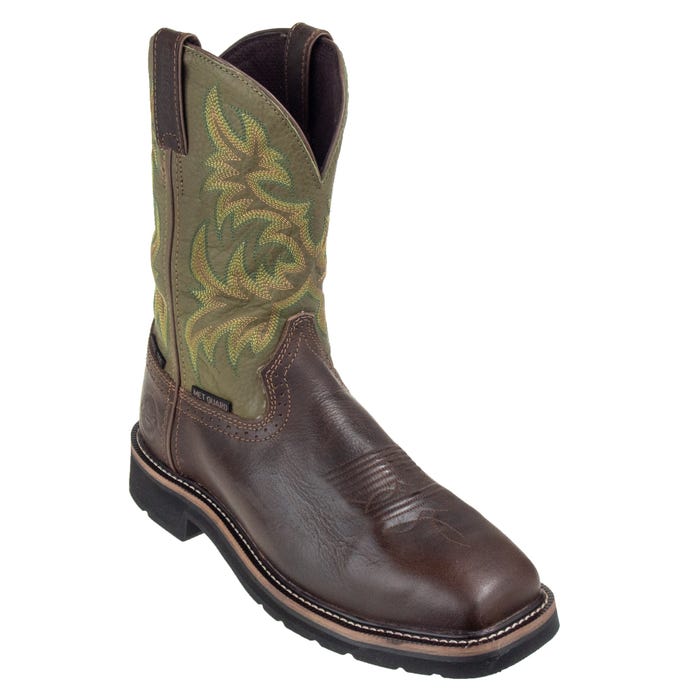 Justin Boots: Men's Dark Brown SE4570 Keaven WP Met Guard Work Boots
$ 189.99
Hold your horses! We know these ~Justin Men's Dark Brown SE4570 Keaven WP Met Guard Work Boots are awesome, but we'd like to tell you all about their special features. If you just can't wait, we'll let you place your order right here at Working Person's Store. Go ahead. We'll wait.
Alright, now that you've at least got these Justin steel toe boots in your online shopping cart, check out their impressive attributes. To prevent metatarsal injuries, the Justin brand added MetGuard™ safety for superior protection against painful and career-ending foot damage. MetGuard™ is a thermal plastic urethane shield created with PORON® XRD® technology. This overlays the steel toe box and runs up to the very top of each boot's instep, providing you with armor-like protection above your metatarsals. Pretty cool, huh?
In addition to the met guard safety, nothing beats the effectiveness of good ol' steel toe work boots. It doesn't matter where you work - on a ranch, at a construction site, around huge farm machinery or other mechanical equipment - there's always a risk of falling or rolling objects that can really do some damage. These steel safety toe Keaven boots are a great solution to keep you safer at the job site.
These men's dark brown boots are also ASTM electrical hazard rated. This makes sure you're guarded around open electrical circuits of up to 18,000 volts. When your chance of exposure to electrical currents is high, lower your risk of getting electrocuted by choosing EH steel toe footwear from Justin.
The 11-inch moss green uppers with dark waxy brown feet look sharp, and they also mean business. For some of the roughest work out there, the Justin met guard boots feature superior waterproof construction, too. This helps your feet and work socks stay dry and comfortable all day. Orthotic insoles offer even more cushioning to your steps, and the Stampede™ dual-density rubber and EVA combination outsoles allow you to have better traction.
With these Justin Men's Dark Brown SE4570 Keaven WP Steel Toe Work Boots, you'll get all-around protection. This men's waterproof footwear meets ASTM F2413-11, I75, C75, EH, and MT safety ratings. So go ahead and finish placing your order with Working Person's Store (if you haven't already done so), and you'll soon have high-quality steel toe metatarsal guard boots that are ready for the challenges ahead.
Style Number: SE4570