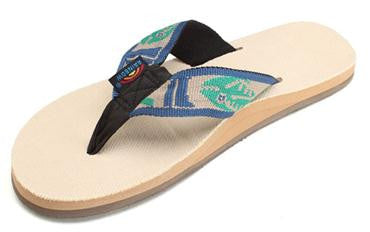 Rainbow Men's Single Layer Hemp Top & Strap w/ Arch Support - Natural LT Green Fish
$ 45.99
Features:
Natural Hemp Top Sole 

Single Layer Arch 

Nylon Fish Pattern Strap 

Bonded Nylon Thread 

Box X Toe Construction 

Triple Glued 

Non-Slip Bottom Sole 

Original Rainbow Woven Label 
The Hemp Fish, as we call it around the Rainbow HQ is Sparky's favorite sandal!

They are the single layer arch construction that has a hemp top sole, and a nylon strap that has a swimming fish pattern on it. The nylon strap and toe piece are held in place by using the box X stitch pattern, and triple gluing them inside the layers.

We use durable bonded nylon thread for durability because it won't fray or pull out. They have the non-slip Rainbow bottom sole and are finished off with the Original Rainbow woven label.
Style: 301AHPFS