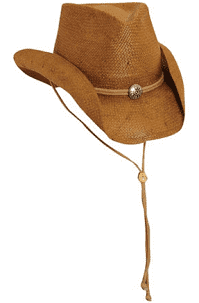 Scala Shapeable Toya Western Hat in Tobacco
$ 39.99
We have run out of stock for this item.
Get ready for the honky-tonk with this Scala western hat. Whatever your county music needs, this shapeable western hat will fit your style. A unique wire-in-brim design allows the wearer to bend and shape to your heart's desire. The possibilities are endless here, as you can flip up both sides for that Kenny Chesney island vibe, or have a straight brim for more of that western cowboy feel.

A sunburst medallion is appropriate for all your sun-worshiping ways, and a cotton chin cord is adjustable with a wood bead. Made of 100% toyo straw, this hat will look fashionable no matter what outfit your pair it with.
ST1105-TOBAC