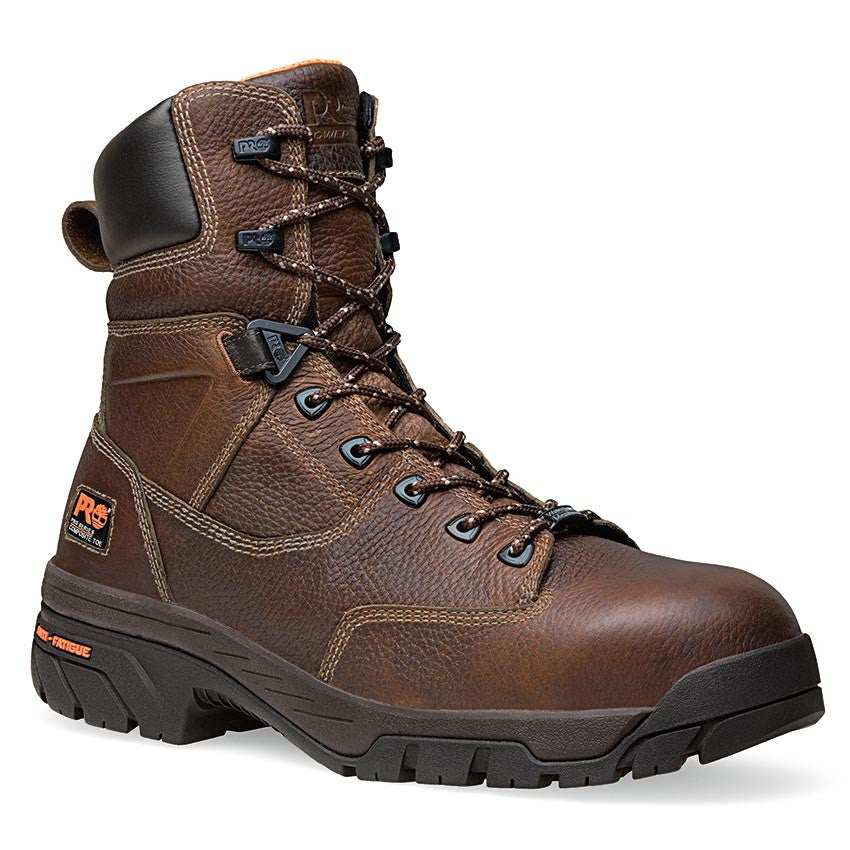 Timberland Pro Men's Helix Waterproof Composite Toe Boots
$ 189.99
Features: 
Premium full-grain leather
8" lace-up work boots
Waterproof
Safety toe
Cement construction
Anti-fatigue technology
Padded top collar for comfort
Molded EVA midsole
Mesh lining with antimicrobial treatment
Polycarbonate hardware for lightweight, non-metallic durability
Active heel lock lacing system for secure heel set and personalized fit
Nylon shank for structural support
Rubber outsole
Low profile for high surface contact
Slip-, oil-, heat-and abrasion-resistant
Ladder Lock outsole radius
When your footwear is comfortable, each work day feels a little shorter and a little easier. These Timberland Pro Men's Helix Waterproof Composite Toe Boots are the ones for the job. Full-grain leather naturally resists wind and water, so skin stays drier and healthier. Cement construction allows these Helix boots to flex with movement and reduces the break in time. The PowerFit Comfort System supports key zones of your feet to provide comfort all day long. These oil-resistant boots feature contoured, open-cell footbeds support that cushion feet with lightweight polyurethane. Lighter than rubber, yet more shock-absorbent, polyurethane absorbs shock and impact to leave feet more comfortable. Agion antimicrobial lining covers the footbeds and mesh lining, wicking sweat away from the feet as it kills odor-causing bacteria. Lightweight, non-metal nylon shanks will support feet and arches to reduce muscle strain and discomfort. These antimicrobial boots are made with Timberland's anti-fatigue technology, which uses conical midsole geometry to absorb shock and return energy to your feet. The Ladder Lock outsoles are specifically designed to provide foot grip even on ladder rungs, not to mention slippery floors. So when it's time to lace into your work boots and get ready for another day on the job, make sure they are ones you like. Make sure they're Timberland Pro Men's Helix Waterproof Composite Toe Boots.
Style(s): TB087566 - 87566